Back before Covid hit, I'd cut out and started sewing myself a new 18th century cap. I was working from the Kannik's Korner round eared cap pattern, and was using handkerchief weight linen from Wm. Booth, Draper. I'd gotten it all cut out and the headpiece seamed and hemmed. But when events started getting cancelled, I completely stalled on it.
When I committed to going to Taken Shelter in Fort Dobbs on June 26, I knew I needed to finish the cap. But until the weekend before the event, I couldn't find the motivation to work on it. So on the 19th, I sat down for a few hours to try to make as much progress as I could. First up was the eyelet and drawstring casing on the caul. Then it was on to the whipped gather on the top edge of the caul.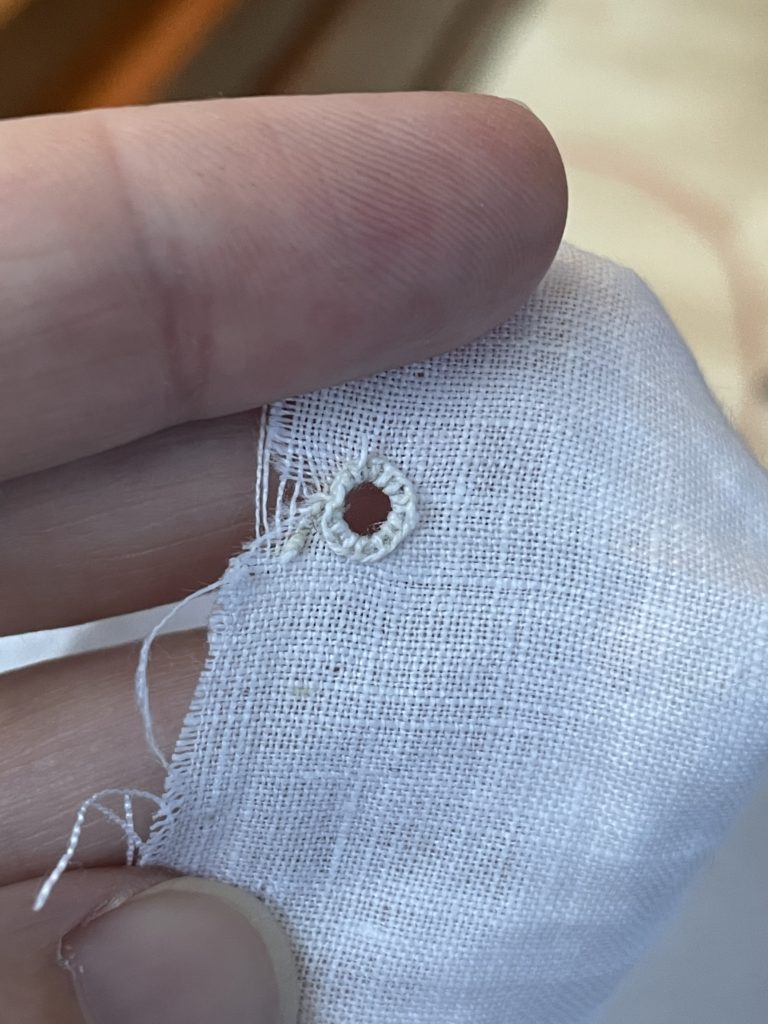 Sunday the 20th had me joining the two sections and doing a rolled hem and more whipped gathers on the ruffles. After all of that, I had to pull the gathering stitches to fit the caul to one side of the headpiece and the ruffles to the other and stitch everything together. I finished it all around 9pm Sunday.
All told, it probably was 15 to 20 hours of work, most of it the weekend before the event. It may not have been much faster than the one I made a decade ago, but it is definitely better made than my first one. The linen is finer and of a higher quality, which meant my rolled hems were smaller. My stitches throughout are smaller and much more even. I've better learned how to manipulate gathers so that they are evenly distributed across a curved edge. And in terms of wearing it, I now know how important having more of my hair on top of my head is if I want to avoid my cap constantly falling off.
I'll call that the second of 6 living history related items completed this year. Trying to decide if I want to do the next cap with pleats instead of ruffles, or if I want a double ruffle.