Garden Update: Spring is Here (Ish)
Spring is a sort of fickle thing here in North Carolina. It's cold, and then it's Pollen Everywhere. And then it's comfy for about a week, and then it starts getting hot. But it might suddenly get cold again (very unpredictably). It can make it a bit challenging to figure out when tender plants can actually go outside and stay there.
Last spring I made the mistake of thinking it was done being cold in mid-March. Yes, our last average frost is around April 17, but it was in the 70s last March. Which also meant I put in tomatoes and peppers too soon. Even covered, there was some cold damage, and it took them longer to take off. So when I planted things in at the very beginning of April, it was mostly cooler weather vegetables and some herbs I'd picked up at Atlantic Gardening Center in Raleigh. I was able to get those in the ground within a day or two of picking them up, and seeded some carrots and lettuce at the same time. I'm crossing my fingers that the brassicas don't bolt before they're ready to harvest because it got too warm too fast for them.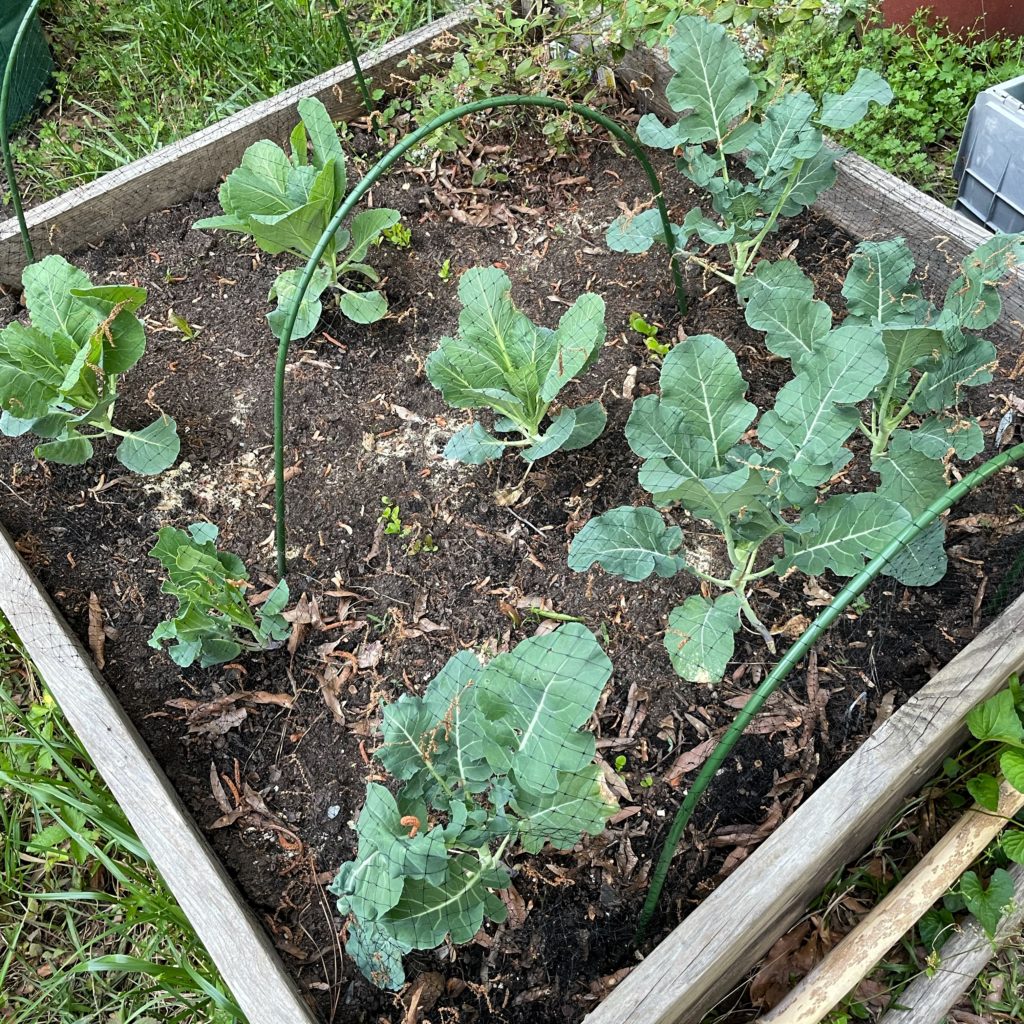 While I was out doing a bit of raised bed clean up two weeks ago, and a neighbor gifted me some extra tomato seedlings she had. I figured that less than a week from last average frost (and looking at the forecast), I'd be fine putting them in one of the beds and a couple of the grow bags. So imagine my surprise when I looked at the forecast the middle of last week and saw temperatures in the low 30s. I dragged out the frost cloth that I was getting ready to put away for the year to cover the tomatoes and some of the other plants. One of the tomatoes looks like it got a little cold damage, but the others look fine, so we'll see if they take off faster this year than last.
This past weekend, I ran down to Garden Supply in Cary, and picked up a couple more tomatoes, some hot peppers, a few more herbs, some blooming plants, and a variety of seeds. While I was doing a last lap around the garden center, a rose also caught my eye. I got some of the herbs potted after getting home, and will finish planting things sometime this week (after I go pick up soil for in the grow bags I'm using for the rest of the tomatoes and peppers). I still have to figure out where the rose is going too.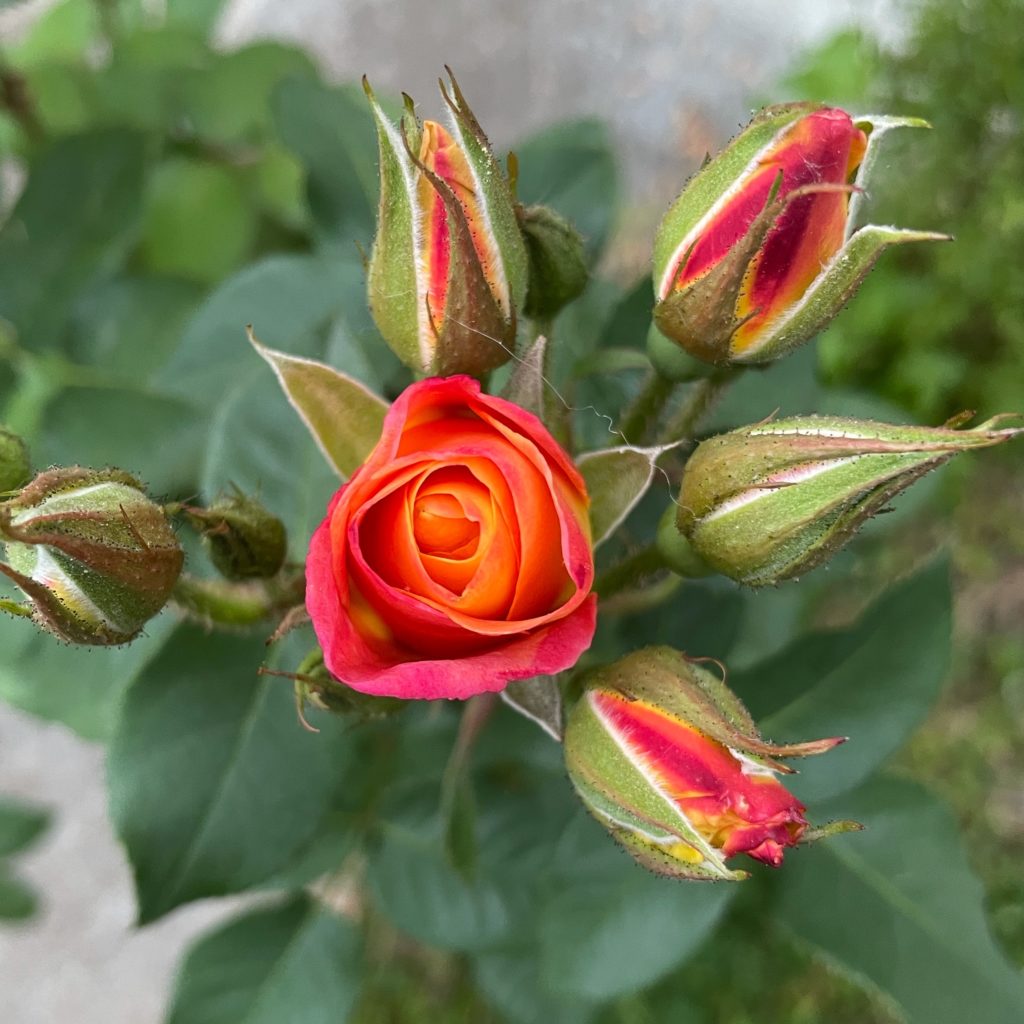 The bare root strawberries, asparagus, and gooseberry I ordered from Easy to Grow Bulbs were delivered on Monday. so I went ahead and planted the strawberries and asparagus in one of the raised beds. That bed is rapidly becoming the perennial fruit and veggie bed – there's a blueberry bush in there already. I planted garlic and leeks in that bed too. The gooseberry is in the front bed, since there is a blueberry in the others.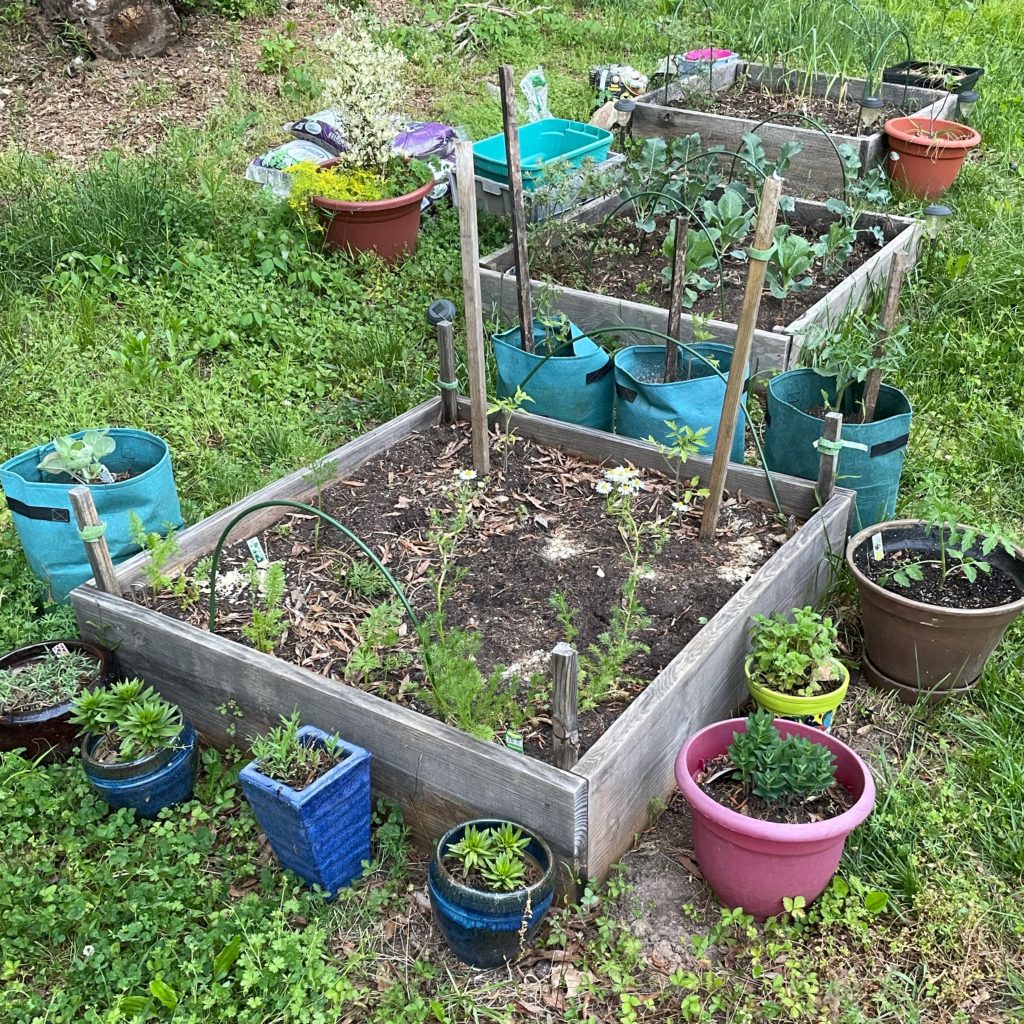 There's more to plant this week, and I really need to get some things seeded in the raised beds this weekend. Along with establishing the beds over by the driveway where I'm planning to grow some dye plants. The arrival of spring is definitely heralding the start of some busy weekends and evenings.