I bought my first spinning wheel only a few months after I learned to spin in the spring of 2008. I had an on campus job throughout the school year, and summer work lined up, so I had a bit of money I could spend. After looking around a bit, I decided on an Ashford Traveller. It looked like a solid wheel, and wasn't too expensive, especially if I got one unfinished. So off I went to eBay, of all places, to order one. Of course I was telling myself I wasn't going to put it together right away after it arrived, I'd save it for some point in time I can't remember. But that didn't last long after it arrived, and I headed down to the hardware store to pick up a can of wax. I'd decided I liked the color of the wood and wouldn't bother staining it. I think I had it waxed, assembled, and spinning in only a couple days.
Of course, I had bought and assembled it between a spring and fall semester of college when I was home. By the end of the summer, I'd been having so much fun spinning, I didn't want to leave it at home when I moved back into my dorm in the fall. I'm reasonably certain that I was the only person on my campus with a spinning wheel in their dorm room.
There were plenty of times friends were going out to parties or to getting together to play video games, but I enjoyed hanging out in my room spinning and watching movies. And ironically, getting a wheel led to me buying an unprocessed fleece from my local yarn shop's owner – she had a spinner's flock. Which itself led to some amusing weekends with my wheel in the corner so a drying rack could be set up in front of a vent. I couldn't be patient and wait until I was home for the summer. So I ended up cleaning that fleece in a sink in my dorm's bathroom. Yes, I was that weird.
When I finished college and was living at home for a bit while getting ready for graduate school, the Traveller helped get me into living history. Folks down at Brunswick Town/Fort Anderson State Historic Site had listened to me talk about spinning, and asked if I wanted to demonstrate during Heritage Days, the annual 4th grade history trip (which normally draws about 1,000 4th graders to the site over the course of four weekday mornings. Since it isn't very modern looking and upright wheels pre-dated the historic town's establishment, I decided it would work well enough. In fact, I used it for more than 5 years for living history demos. That only changed after I got my first antique wheel. I still take the Traveller with me for some spinning demonstrations, especially if I'm not wearing history clothes.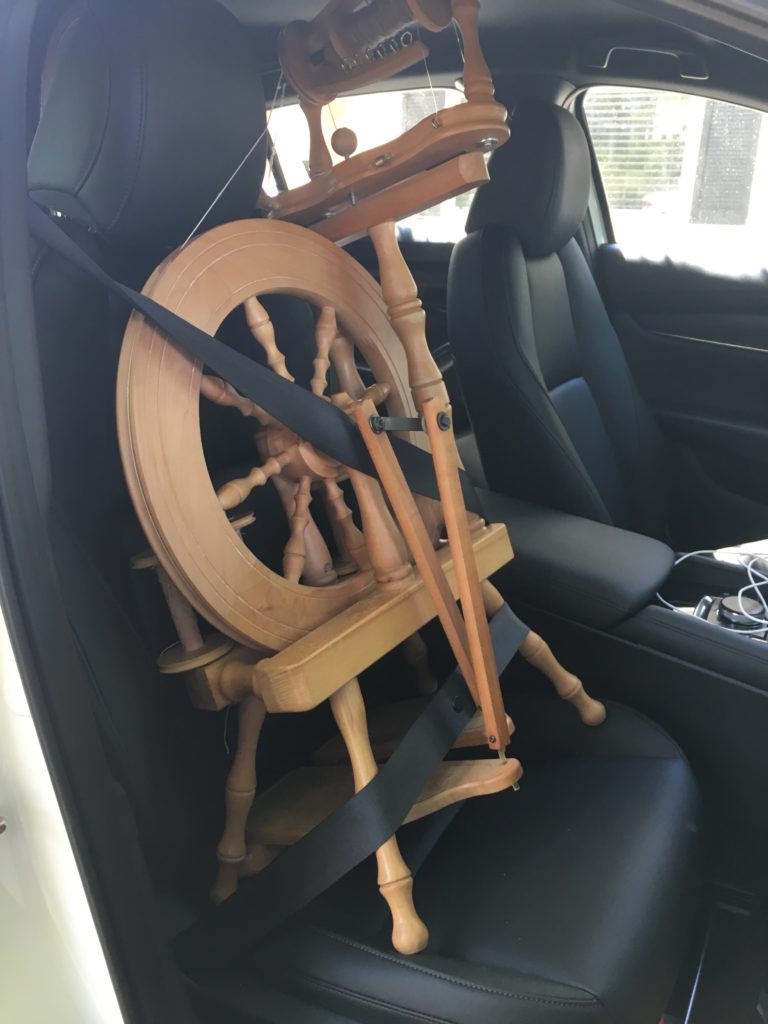 Per Ashford's website, wheels are made from Silver Beech (Nothofagus menziesii). The Traveller is available in a single or double drive, and has a double treadle (if memory serves, it was available as single or double treadle when I got mine). The wheel itself is 18″ in diameter, and the entire spinning wheel weighs 15 pounds. The bobbin has a capacity of 100g (3-4 oz). The orifice is 3/8″ on the standard flyer, with the orifice height at 31 3/4″. The flyer now comes with 4 whorls, giving it ratios of 6:1, 7.5:1, 10:1, and 14:1 (mine only has three, and I don't remember the ratios). It comes with 4 bobbins and a built-in lazy kate.
So what are my thoughts on this spinning wheel?
Overall, it's a really good wheel. It was fairly affordable and pretty easy to finish and assemble. It's forgiving for a new spinner, and doesn't fluctuate too much even with summer to winter temperature and humidity changes here in NC. It has a small footprint and is solid enough that an accidental bump isn't going to damage it. Which means it fits easily in the seat of my car (I drive a Mazda3 wagon) for to transport to events, and can survive being bumped by kids getting too close. That same small footprint makes it easier to store out of the way when not in use. It's currently living between my desk and a bookcase in my room – a space that is about 20″ wide and 15″ deep. In terms of spinning capabilities, I can spin pretty bulky yarn as well as fine yarn with it, though finer yarns would probably be easier with the current whorl ratios. I'm sure I've spun many miles of yarn on this wheel, and know there are many more left in it. I'm also pretty sure that I've exceeded the bobbin's published capacity playing bobbin chicken on at least one occasion. The built in lazy kate makes plying fairly easy.
The biggest downside for me is its weight. It's tiring to carry it for long distances unless I used two hands. I almost need a little cart for it so my arm doesn't cramp if I want to carry my stool or a basket of fiber at the same time. The smallest whorl's diameter still doesn't go fast enough to spin extremely fine. I'd need to get the lace flyer to spin super fine without over-spinning the yarn and working really hard. It can be a bit of a noisy spinner if it's not well greased. All that said, its overall versatility means I'd have to be very short on space to rehome this one.